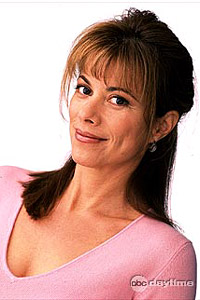 As long as she could remember, Alexis Davis always thought of herself as a distant Cassadine cousin, who became an astute attorney, the family "consigliere," and her cousin Stefan's business confidante. She did not learn about her true identity until much later in her life. Alexis loves her cousin Nikolas and shares Stefan's animosity toward Luke and Laura Spencer.
Alexis arrived in Port Charles at Stefan's request to defend Dr. Kevin Collins against the charges of kidnapping and stalking Felicia Jones. Alexis managed to help Kevin avoid prison and a stay in a mental institution. Alexis then defended Monica Quartermaines against sexual harassment charges brought by Dr. Pierce Dorman and became General Hospital's legal counsel when Stefan took it over.

Alexis did not like Katherine Bell and was concerned when she realized that Stefan was seriously pursuing a relationship with her. Alexis devised a plan to make Stefan believe that his father Stavros had fathered an illegitimate child, who was his half sister "Natasha." Alexis then lead Stefan to believe that Natasha was still alone and was really Katherine. After breaking up with Katherine, Stefan learned about Alexis's deception and threw her out of Wyndemere and banished her from all aspects of Cassadine life.

What Stefan did not know, however, was that Alexis had learned during her investigation that she was Natasha. Luke caught on to Alexis's plan and learned about her mother Kristen Bergman. Luke told Alexis the history of the relationship between her mother and Stavros and the brutal way Helena Cassadine had murdered her.
Alexis was shocked to find out that Helena had recovered from her illness and had returned to Port Charles. Helena had known all along about Alexis's true identity and had promised Stavros that she would spare her life as long as Alexis never knew the truth. Instead of killing Alexis, Helena made Alexis her point person in her plan to wrest control of the Cassadine empire from Stefan. After being rejected from Stefan when she told him that she was Natasha, Alexis realized that she had no choice but to do Helena's bidding.

Alexis had also found herself attracted to Ned Ashton. Their attraction to each other culminated when they made love for the first time on Valentine's Day.

Alexis wed Jax Jacks as part of the plan to keep Chloe Morgan in possession of her company, Chloe Morgan Designs. Alexis and Ned Ashton secretly managed to keep up their relationship as much as possible. Now that Alexis is divorced from Jax, she must face her ongoing fears about marrying Ned. She loves him, but has always been apprehensive about making the commitment to marry him. Finally, however, Alexis agreed to become Mrs. Ned Ashton. Ned and Alexis made a sudden trip to Belize and planned on getting married the next day. Unfortunately, the media tracked them down and forced them to delay their wedding.

Alexis was shocked by the media attention to her and Ned's wedding plans. Alexis was even more shocked to find a photo of herself wearing only a teddy and she learned that she had been labled as "Eddie's Angel" in the media! In the end, Ned and Alexis realized they had no choice but to cooperate with the media and give them what they wanted. To that end, Alexis and Ned planned a huge wedding gala and through no fault of her own, Alexis ended up with Carly as her maid of honor!

Although it is clear that Ned and Alexis are in love, it remains to be seen whether or not they will actually make it down the aisle.

Alexis is currently residing at Jason's former penthouse.